1.18.2005
Caption This Photo v2.3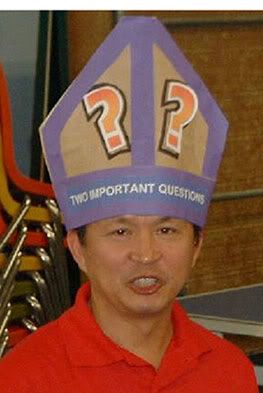 The winner of Caption This v1.1 is HOMEDETENTIONLADY. Way to go Big Mama, let me know when you want your free lap dance. (For future reference, anyone capable of incorporating Wayne's World into one of my posts will forever win my undying love and affection. Plus also, you can be my BFF.)
Comments:
Awww..fuck..it's 2:35 am where I am. I think I may have to pass this time round and hopefully be more coherent for the next pic. My brain is fried. Great snap though.
I have a friend who grew up in Salt Lake City. Her tales from there are side-splitting hilarious! Including Halloween Parties where her friend dressed up as Mrs. Roper (and the afro wig caught fire) ..and another time, the Angel Moroni (gold paint and all).
*waves hi to George* How's Texas? Gotta go visit your site again sometime soon..
A Dooce-devotee who you never heard of..yet.
Amy
http://9moonsago.com
Post a Comment
<< Home