1.21.2005
Caption This Photo v3.0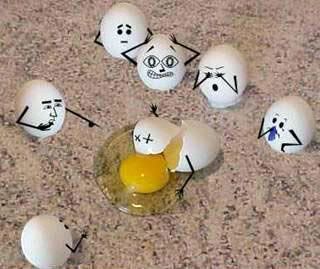 The winner of Caption This v2.3 is Girl.A, "KAHN: You wish you could ride in my trunk! My trunk so plush it like movie star trunk!"
While there were many fantastic Wayne's World references and even a disturbing suggestion about the flavor of Condie Rice's cheek moles, I ultimately had to give in to the King of the Hill reference because of it's double entendre in relation to the interpretation of the word "trunk" by this blog's author. That, and I'd like to ride in GA's plush movie star trunk ANY DAY.
Comments:
"Ripped from the headlines. On this week's Law & Order: EVU (Egg Victum's Unit), violent egg gangs are "frying" their rivals on the sidewalks."
Hugs,
Babswife
Post a Comment
<< Home