1.15.2005
Homosexual Precedents
"I think that his homosexuality was not noticed by either his wife, or many of his friends, which is one reason why we are only finding out about it today," Baker said.
The Great Emanicpator, pictured here


the day he heard Brad Pitt

was single

.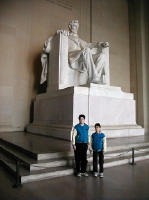 "Wow, the view from up
here is flippin' fantastic!"
The bowties make it socially acceptable for these two grown
men to engage in naughty bedroom activities.
"Which one of you faggots wants to Mount my Rushmore?"


Roosevelt was his #1 licky.