1.09.2005
Lindsay Lohan, she's bout it bout it.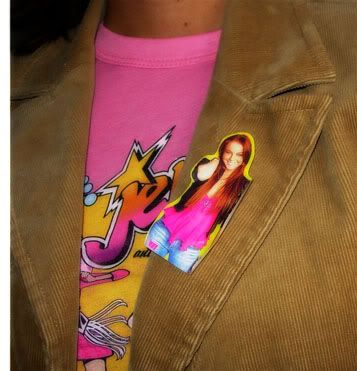 All aboard the L-train, next stop puberty.
I ran into Lindsay Lohan at Wal Mart last night. That's right ye of little faith, celebrities appreciate those badass falling prices and daunting yellow smilies just as much as the rest of us. So I'm all, "Lindsay, what the hell are you doing stuck to a tin of poker chips at Wal Mart? Did Salma Hayek's Avon campaign not teach you anything?" And Lindsay's all, "Are you retarded? I would never endorse these retarded poker chips, you retard. I'm a featured performer on THAT 70'S SHOW. Puh-lease." And I'm all, "Ooooh, so what you're telling me is that someone stuck you on this tin of poker chips where you don't really belong?" And she's all, "Duh." And I'm all, "So do you wanna hang out?" And she's all, "But I can tell that you're watching me/ And you're probably gonna write what you didn't see/ Well I just need a little space to breathe/ Can you please respect my privacy?" And I'm all, "Dude please stop singing, everyone already knows you've got falsies so just slow your roll." And she's all, "God, how retarded." Which was my cue to rip her off of the poker chips and stick her on my jacket.
So after I signed a waiver promising not to disclose any unauthorized details about her skankalicious bod, she agreed to adorn my lapel for the evening. All I can really tell yall is that the girl is bout it bout it when it comes to whiskey, Texas Hold 'Em and lesbian sex. She took off with my money and my last shred of amour propre, and not because I lost at poker.
Comments:
Yeah I freakin love Jem, she taught me that LSD will make you think you can fly by jumping out of 6th story windows. The DVD's don't sell because they cost $60, and I could buy like 5 Jem shirts and a hit of LSD for that price.
Post a Comment
<< Home