3.03.2005
Extra! Extra! Read All About It! Spoon Gets BENT!
In honor of "spoonwhoever" being instructed to "get bent" yesterday, I am posting this picture on Big Booty Thursday. Let me just say that it is an incredibly humbling and nearly impossible task to capture an image of your own ass. Especially with a giant, bent crack spoon hanging out of it. Suffice it to say, don't try this at home. Some delicate membranes were damaged in the taking of this self portrait. Anyone got a light?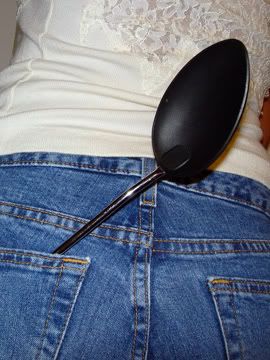 HONK.
Comments:
God, you get me hot. Your Texas ass is sweet, that's fo sho. I wish I could tap it. Maybe even with that spoon somehow. I'm going to cuff and stuff your muff. What shall we do next week? Tattoo Thursday? FUPA Friday?
Post a Comment
<< Home